Talking with Kelly Loudenberg is comfortable. It's not always easy to judge how an interview is going to turn out. I'm not one for writing down 20 questions and reeling them off in set order. This regime has never worked for me. Depending on the answers given, who is to say what should be asked next? It's immediately obvious that Loudenberg operates in a similar vein. After all, she is more used to giving interviews than I am. She's conducted numerous for her hit documentary 'The Confession Tapes'. ' I never look at a list of questions' states Loudenberg, 'I see the interview process as more of a conversation.'
Loudenberg after all, spent two years working on her latest project 'The Confession Tapes' and although I, like many first became aware of her work because of the seven part documentary series, research and interviews have always been integral to her work. Before the 2017 release of 'The Confession Tapes', Loudenberg spent her time honing her craft on a multitude of ventures varying from art exhibitions to a series of short format documentaries.
Loudenberg, was born in Georgia in 1985, and her work resume before working on the hit docu-series was not only busy, but eclectic too. After completing an International Study Program at the University of Salamanca in Spain, Loudenberg enrolled in a Bachelor of Arts Degree at New York University. Upon graduation she was quickly into her stride. Her first ventures after graduating university led to her making her own short-form stories and selling them on the internet. Between 2010 and 2012 she hosted exhibitions in New York, Baltimore and further afield in Venice, Italy.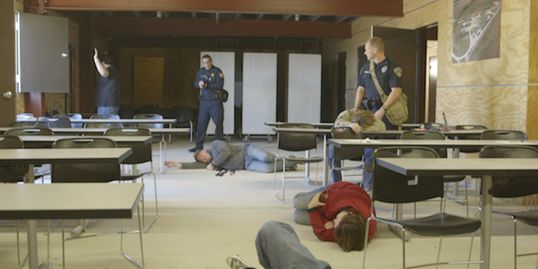 When researching Loudenberg's previous work portfolio, the 6 minute short-form documentary 'A Permanent Present' immediately grabbed my attention. 'Wow, you saw that?' Loudenberg, with genuine surprise exclaimed. The 2013 docu-short, detailing a rare condition, deja vecu, was filmed using a 'fish-eye' lens. I asked Loudenberg if she would ever consider re-visiting such works now that she had more resources at her disposal and perhaps more freedom to add to their short nature. 'I don't think I'd go back. A Permanent Present wasn't only about this rare condition, deja vecu, but more a metaphor for how our lives are being played out.' The focal point of the documentary follows Daniel Kliewer's inability to experience anything new and in turn novel because of his condition. The docu-short is available below.
Loudenberg's work on 'The Confession Tapes' began back in the April of 2015. Her passion for exploring individuals that were not well known, and more importantly 'Needed their stories telling' bled through from her earlier works. 'It all started with a phone conversation with Steve Drizin at the Centre of Wrongful Convictions.' Loudenberg explained. 'I wanted to address cases that were not in the public eye, a lot of these cases hadn't been covered by mainstream media. Bare in mind, this was before the release of Making a Murder. The case of Burns and Rafay was covered by 48 Hours but one of the reasons I chose that case was because I thought their story had not been told fairly.'
The story of Sebastian Burns and Atif Rafay headlined the docu-series with its only 2 part instalment. As is the common theme throughout the series, eliciting false or coerced confessions from the show's subjects and how their stories evolved, was the heartbeat of the stand alone documentaries. 'The most important thing was the recorded confessions. Everything we went on to do with the series stemmed from that tape.' Loudenberg explained.
Although The Confession Tapes consisted of 6 separate stories told over 7 episodes, Loudenberg researched numerous cases including that of Melissa Calusinski. The sheer number of cases that could have warranted being included in the series was almost overwhelming. The only draw back was that a lot of them did not have a recorded interrogation. As if the confessions of the lead subjects themselves wasn't heartbreaking enough, Loudenberg's interviews with the family members themselves not only added background and depth to the stories, but also the reality that stories such as these could happen to both you or I. 'Without the families and the defendants agreeing to be interviewed only half of the story could have been told.' Loudenberg told me. ' I was so fortunate to have an incredible research team working alongside me. Between us we came up with very detailed questions for each case, but as you're talking to these families that kinda gets thrown out of the window. The notes are still there for reference, but the interview becomes a conversation. It becomes organic.'
When researching a case, relying on media outlets for your information can often not only suffer from a lack of depth of reporting but also be heavily prone to interpretation. Public Records are key, not only because of their source, but more importantly, these documents can be used in appeal. My struggles to access 'Public' Records are by no means unique. However, help is sometimes at hand.
'For the 8th and H episode, the municipality that held all the records just simply refused to comply with our FOIA requests. In the end we relied on lawyers and a journalist who had written about the case for the documents.' explained Loudenberg.
Although Loudenberg's palette for investigation is broad, her varying subject matter denotes similar themes. Whilst 'The Confession Tapes' has not only been popular, it has received acclaim from an array of critics too. When I spoke to her from her home in Los Angeles, I offered that she appeared to be a voice for the underdog. Her response, whilst more eloquent, was importantly more reasoned too.
'These are stories that needed to be told.' Loudenberg informs me. 'While the suspects voices are heard through the tapes, the narrative is slowly being manipulated.'
Often used police protocols, such as the Reid Technique appear often within 'The Confession Tapes'. Loudenberg studied the technique herself for educational reasons and to understand how these techniques can lead to false confessions. One only needs to look at the fourth instalment of the Docu-Series and the case of Robin Boes and her mother, Karen's painstaking interrogation at the hands of Zeeland, MI, law enforcement officers to see why this technique is fiercely opposed by many.
'Where a confession is their own words, It becomes really hard to undo when used as evidence against them in a court of law. When looking at these confessions, everything is not as it appears. It's not only the confessions themselves but the whole justice system. You take these things at face value. I was genuinely shocked during my 2 years of researching alongside my team to learn of the whole breakdown of justice.' Loudenberg's passion for her subject matter and the threads that link her varying projects, (whether it be her covering Hurricane Sandy through to her commissioned work regarding self sufficient or 'drought tolerant' landscaping) share one very important thing in common. Her determination for 'Voices to be heard, where perhaps they wouldn't ordinarily be.' and her repeated notion that 'Often a greater understanding is hidden in plain sight.' ring true.
Kelly Loudenberg's greatest triumph here is engaging the public. You wouldn't have to go back too far in time for the public's knowledge of false, or coerced confessions as being that of close to non-existent. It is with raised public awareness that these issues can actually begin to change. After all, it is the public who serve on juries, and it is ultimately their decision as to who is found innocent and who is found guilty. Whilst the voir dire process eliminates as many 'ill-educated' jurors as it does 'free thinking' ones, educated jurors who understand that not only do false confessions happen, but they are far more common place than one would have originally thought should be welcomed. After all, how many cases can you think of where the false confession simply does not align with the rest of the evidence, or lack of? How many innocent people have been incarcerated over the past decades because jurors simply could not fathom that an innocent person would confess to something they did not do? The sheer fact that junk science can be given a free ride on the back of a confession should scare you. Even more worrying should be the fact that confessions can be used as the solitary piece of evidence to convict someone. Look no further than the ludicrous, yet equally heartbreaking case of Brendan Dassey.
Before wrapping up our conversation, naturally I have to ask the obvious, what's next? While Loudenberg doesn't rule out a return to 'The Confession Tapes' at some point down the line, she is now working on a new project. 'I can't tell you specifically what's next, but I can say it will be criminal justice based.'
Kelly Loudenberg doesn't go backwards or even stand still. Her genuine shock at the State of the US justice system resonated clearly. False confessions are an extremely important part of what is wrong with a system that is fundamentally flawed yet there is more to explore. Safe in the knowledge that Loudenberg will be delving further into criminal justice makes me confident that public awareness will be raised again.
Looking over Kelly Loudenberg's work to date, I'm very confident that whatever she does next will not only be important, but will give a voice to subject matter that lacks one in the public domain.
Many thanks to Andrea@Minerva8918. Without your influence and help this interview would not have happened. Much respect.
Please feel free to contact me with any questions or queries regarding this article at either: jdidcock@betherain.org  or via Twitter  JamesDidcock@51kikey